State of the Industry - the U.S. Health Care Market - the Payer's Perspective
Introduction
When considering the U.S. health care industry - especially from the perspective of the payers (primarily health insurers and HMOs, and sometimes the special case of pharmacy benefit managers, or "PBMs") who finance most health care in the non-governmental arena - we are struck by the recurring headline themes over the past 5 years or so:
Rapidly rising, often double-digit %, increases in insurance premiums - and similar % cost increases for self-insured employers - and with certain sub- segments, such as prescription drug costs, rising at alarming rates
A constant stream of promising health care breakthroughs - in devices, methods, drugs, bio-technologies and results of genomics research - yielding new, effective and ever more costly treatment options that must be evaluated for coverage by insurers and government agencies alike
An overall pushback against managed care in the health care industry itself, which has refocused the community on: (i) products like non-gatekeeper PPO as opposed to HMO coverage; (ii) indemnity-like, high deductible catastrophic coverage; and (iii) early waves of new Consumer Directed Health Plans (CDHPs). To-date, these product shifts seem more satisfactory to the caregiver ("provider") communities, and have not stemmed the continually rising tide of medical costs
Re-importation - a movement afoot by insurers, employers, government agencies and some PBMs to import certain items - notably drugs - from other countries that 'enjoy' a lower unit cost for the same item when compared to the U.S. market. For many years, pharmaceutical firms have defined 're-importation defenses' - along with generic defense strategies and others - as strategic necessities. The pharmaceutical firms' anticipated response to reduced revenues due to U.S. drug re-importation will probably slow the introduction of new drugs - in an industry already suffering from a depleted new drug pipeline - and have health impacts for the U.S. and the world until the issue gets resolved on the grander global stage
An aging population, characterized by the Baby Boomers - the first wave of whom will retire in the next 5-10 years. For the most part, they represent a more highly educated population with higher earnings than their parents' generation - and they expect more choice in and access to the goods and services they purchase, including health care
Employers attempting to brake health care costs' acceleration by shifting more costs and responsibilities to employees, retirees and dependents through such vehicles as Consumer Directed Health Plans (CDHPs); and more small employers opting not to offer health insurance at all
A growing population of uninsured Americans , many of whom are the 'working poor' who do not qualify for Medicaid coverage, are not able to receive care under their states' free-care pools, if they exist, and cannot afford to pay for health insurance offered by their employers. This growing problem begs a coordinated solution from government, employers, insurers, care givers and taxpayers. But in our view, its likely resolution is not a single-payer solution nor bundling this whole community of citizens into the Federal Employees Health Benefit program as was suggested by the Kerry campaign during the 2004 election cycle. Instead, the payer community - insurers, HMOs and PBMs - should get out in front of the issue or suffer the consequences of any solutions imposed upon it
A merger and acquisition 'craze,' within the health care insurance/HMO sector itself, that has been underway for several years - both within the Blues community that has shrunk from over 70 Health Plans to approximately 40, and within the broader commercial insurer and HMO domain. Noted aggregators of other health plans include the following: Anthem/WellPoint, United Healthcare, Excellus, Coventry, Health Care Service Corp. (HCSC), Regence BCBS, Premera and Aetna.

All Health Plans, regardless of size, will have to develop strategies to: (i) become acquirers, (ii) be acquired or (iii) effectively resist acquisition and remain independent in order to have some control over their destinies
We expect certain Plans to show their intent to acquire - or be acquired themselves - in the near future, including CIGNA, Humana and several large still-independent Blues like BCBS of Florida, Blue Shield of California, BCBS of Massachusetts, and others.
Certain large insurers and HMOs are likely to remain essentially standalone. These include large West Coast insurers like PacifiCare and HealthNet - unless they are acquired by one of the very large Plans like United, Aetna, CIGNA or Humana - and Kaiser Foundation Health Plans. In Kaiser's case, its group model HMO design is unique to itself and, perhaps, only Group Health Cooperative among large plans. Notably, however, Kaiser has recently deviated from its Permanente Group-driven primary care model to offer a CDHP, and is also offering a PPO product via its Life Insurance entity. However, we do not foresee Kaiser becoming a multi-line health insurer based on a non-group model, unless it were to do so, selectively, in one or more of its regions outside California and then only for survival in those locales -- nor do we see it being acquired
Certain "fringe" insurers and HMOs - such as those originally formed and owned by health care providers (mostly hospital delivery systems) - will either spin off to new ownership and capital sources or be sold or shut down in the next 10 years. We say this because, for the most part, the original business issues that drove the formation of these entities no longer prevail in the marketplace. Providers who carry these thin-margin, capital-poor businesses on their books will eventually determine they are not 'core competencies' of the provider community and dispose of them accordingly
Health Plans that acquire others need to develop better methods and models for assimilating acquired companies and/or assets. To date, there have been no 'best-of-breed' post-merger/post-acquisition assimilations in this industry. Acquirers, especially those that are for-profit and publicly traded, must make the financial results of the collective entities accretive in as short a time period as possible to avoid the negative effects the market will impose on stock prices and market values

New regulatory oversight and investigations of insurers and their methods of doing business - especially those spawned by AG Eliot Spitzer's efforts in New York - threaten to upset both revenue and expense lines in an industry where margins are already very thin.
In the face of such industry 'happenings' and ongoing challenges, successful Health Insurance executives - CEOs, COOs, CFOs, and their Boards of Directors - must stay focused on the financial drivers and operational enablers of their competitive success to win in their respective markets.
Financial Drivers of Success
As depicted below, successful Health Plans focus on and closely manage the financial drivers of their success - and do so by simultaneously managing the enablers of their performance.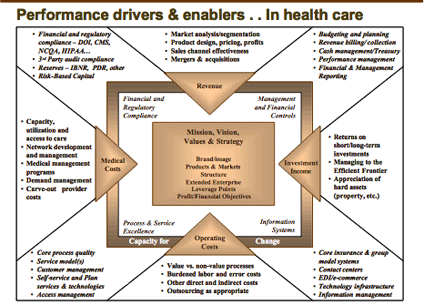 Let's begin by discussing the four Financial Drivers of Health Plan success: Revenue, Medical Costs, Operating Costs and Investment Income.
Revenue - Driver
Revenue - primarily from insurance premiums and fees associated with services provided to self-insured employers under ASO arrangements - is expressed in dollars and measured in several ways : gross revenue, net revenue (gross revenue less broker and agent commissions), revenue per member per month (PMPM), and others. Health Plans grow revenue organically and through acquisition.
Organic Growth: Year over year, Health Plans attempt to increase revenue organically by effecting high account/member retention and positive membership growth, enabled in part by sophisticated actuarial modeling, rate setting and underwriting to accommodate the effects of medical and operating cost trends - up or down.
They recognize that, in most cases, they are operating in saturated "takeaway" markets - that is, they must take business away from competitors in order to grow membership since there is usually no natural large annual influx of truly 'new' customers in this industry. Takeaway strategies are harder to execute than selling to new customer segments. Thus, retaining profitable membership becomes a key goal - reducing churn rates, reducing the overall cost of sales, and improving profitability. Unfortunately, in our experience, many Health Plans:
reward agents and brokers on membership growth alone, without regard for the profitability of particular books of business. While not suggesting that Plans conduct risk-skimming operations, we believe that Plans should reward appropriate behaviors and not reward those that are deleterious to their success
do not regularly determine if brokers or agents are 'dumping risk' on them by the judicious use of data analysis tools and techniques. Such analysis should lead to changes in offending brokers' behaviors or altering or severing their relationships with the Plan
do not conduct regular market segmentation analyses to determine how their brokers/agent sales force is selling in the available market. Market segmentation would determine the industries available in a given region, state or market, allow segmentation of those industries into natural risk pools, and determine the degree to which the Health Plan were well-placed in naturally low-risk, hence attractive, industry segments. Naturally low-risk pools are usually those with younger, more highly-educated professional staffs - such as are found in financial services, biotechnology, professional services, etc. - as opposed to naturally higher-risk segments like dry cleaning, heavy manufacturing, construction, unionized low- wage industries, etc. This type of gap analysis would drive a further assessment of why such gaps exist, and what needs to be done to close them.
Growth through Merger & Acquisition (M&A): While the industry has seen significant merger and acquisition activity in the past 5 years or so, the pace today is somewhat slower, the price to pay for the movement of a not-for-profit to for-profit and to successful acquisition is higher, regulator influences are more obvious and more intense and their approval processes and cycles are dangerous waters (ala the recent Anthem- WellPoint approval process and others). Nevertheless, the beat goes on.
In both the not-for-profit world as well as in the for-profit and/or publicly traded space, some Health Plans are doing one or more of the following:
Are or soon will be preparing themselves to be acquirers > Are or will be actively positioning themselves to be acquired > Have developed or will develop defensive mechanisms to avoid acquisition altogether and remain independent
Those on the fringe - such as small, under-capitalized, independent and/or provider-owned HMOs - are trying to find the means to stay in the game or depart the market, either through merger/acquisition or by being shut down.
Plans are challenged to derive business benefits from their mergers and acquisitions - in aggregated revenue, combined and profitable business base, and creation of operational, technological, staffing and contractual synergies and economies of scale from the se deals. Publicly traded firms must make the deals financially accretive in short periods of time to meet analysts' expectations for the benefits to be gained - or suffer the consequences in the open market and on the Street.
In Questas' view, U.S. Health Plan acquirers have generated sub-optimal financial and operational results in the initial 1-3 years (and sometimes longer) following most M&A deals done in the market to-date. Where there have been financial and operational gains, they have occurred much later than expected and the firms suffered market consequences because of it. Some of the later results have been good, though often after a broad management changeover and a turnaround program has been executed (Aetna, for example). In most cases, the gains have been modest; and, in some cases, the deals have yielded negative financial results.
We have not seen any actual situations where acquiring Plans executed well-developed assimilation strategies - such as those we have observed in some other industries - to derive significant near-term post-merger/acquisition economic and operational benefits from areas such as: real estate, executive and line staffing levels, front- and back-office functions and processes, overlapping provider networks, competing and overlapping products and services, servicing previously shared accounts, standardizing on underlying application systems and technology infrastructures, outsourcing non-core competencies, and using their newfound scale to drive procurement/ sourcing strategies for additional gains.
Medical Costs - Driver
Medical costs are the primary cost component for every Health Plan, typically comprising 80-90% of each premium dollar. Plans contract networks of providers - both professional and institutional - to provide care to their members for negotiated fees, fixed rates or other reimbursement arrangement s. Medical costs are measured overall; they are also measured as disaggregated inpatient, outpatient and drug costs on a PMPM basis. For in-patient care, average length of stay (ALOS), bed days and other measures are tracked. And, in some cases, outcomes of care are measured in an attempt to prove the efficacy of care provided against its costs.
Medical costs also make up the numerator in the calculation of each Plan's Medical Loss Ratio (MLR) - an expression of insurance risk/loss - that is calculated by dividing total medical costs for care rendered to insured members in a given period (the numerator) by the insurance premiums charged for that period (the denominator).
MLR can be affected in several ways :
If the medical costs go up or down while premiums remain constant, the MLR will increase or decrease accordingly. If the MLR is increasing, the Plan should look to its medical cost enablers - network development and contracting as well as medical management disciplines to try to bring the medical costs in line with premium and membership
If the premium goes up or down while holding the medical costs constant, the MLR will decrease or increase accordingly. If the MLR is increasing, the Plan should look to its key enablers - brokers/sales force and underwriters - to determine if premium is being artificially affected through unplanned price reductions to clients or is being underwritten incorrectly - both of these issues can be corrected over a short period of time. Howeve r, if the characteristics of the then current risk pool are worse than predicted at the outset of the year, the Plan will have a more difficult time managing MLR to plan
In reality, MLR calculations occur while all factors are in motion - and not in the same directions or with the same emphasis. Thus, when MLR is off-plan in an undesirable direction, the Plan's executives must closely coordinate their analyses and responses in order to bring it back on track.
Health Plans often place great emphasis on what they call Medical Management - usually housed within a discrete business unit of the same name, headed by the Chief Medical Officer - to understand and curb the growth of medical spending, manage it within the bounds set forth in an annual plan and try to improve care quality, efficacy and the health outcomes of its members. Some Plans outsource some aspects of care delivery and medical management for such care to carve-out providers - e.g., for oncology, diabetes, heart disease, pharmacy benefit manageme nt, vision, etc. Such outsourcing initiatives can be successful if chosen and structured properly.
In our experience, we have only seen a few Plans develop and execute a coordinated medical cost management strategy that acknowledges, combines and leverages the efforts of staff expertise in: network development and contracting, medical management, pharmacy benefit management (if separate or outsourced), sales and underwriting, claims payment, COB & recoveries, appeals and grievances, finance and fraud & abuse detection. While most Plans have the data to support such a coordinated approach to understanding and managing medical costs, few Plans have the managerial disciplines in place to cause cross-Plan collaboration to occur on a regular basis. Fewer still have the analytic tools and knowledgeable, trained staff to use and analyze the data appropriately, take the proper actions and interventions and measure the results of their actions. Instead, they might focus on one aspect of the medical cost and take action - but never validate the effects of the action or conduct appropriate follow-on actions.
Many Plans also believe that their behavioral interventions with providers-- whereby the Plan attempts to get each outlier provider back to some 'norm' that the Plan has defined - - should work simply because they make the intervention. Instead, what we often find is that, if providers will change behaviors at all, they will only do so for their largest revenue source - usually Medicare, or perhaps Medicare and one commercial health plan. They will generally not do so for any Health Plan in their market that attempts to intervene in their processes. This certainly makes the case for scale leverage.
For many years the target MLR for most Plans was in the 84-88% range. In recent years, large Plans have opened up that range, with some at 80% MLR or less and some in the low 90% range - all with different approaches to cost management and bottom line impacts. See Operating Costs below for more on this.
In Questas' case, we partner with two firms that help us and our clients understand and manage medical costs better and more consistently: Medical Management Associates, and Apogee, Inc. - see Partners and Business Associates on our website for further information on these firms.
Operating Costs - Driver
Operating or "Administrative" Costs make up the remainder of Health Plan costs once Medical Costs have been accommodated and sales commissions have been netted against revenue. Administrative costs are expended to run the insurance business that serves all key constituencies and arranges for, attempts to manage, and pays for the medical care provided to its members.
Portions of administrative costs ("admin costs" in short) are also expended on behalf of self-insured employers and their members (employees, retirees and dependents) when a Plan is engaged as the service arm by such an employer under an Administrative Services Only (ASO) contract. In this case, the Health Plan effectively rents its provider network deals to the self-insured employer, might be paid a fee for such an arrangement, and receives a service fee for administering the employer's health benefits for its member community.
Admin costs also make up the numerator in the calculation of each Plan's Administrative Loss Ratio (ALR) - an expression of insurance risk/loss - that is calculated by dividing total administrative costs for processes serving the book of insured members (total admin costs less those for self-insured members) in a given period (the numerator) by the insurance premiums charged for that period (the denominator).
Like the MLR discussed above, ALR can be affected in several ways:
If the admin costs go up or down while premiums remain constant, the ALR will increase or decrease accordingly. If the ALR is increasing, the Plan should look to its admin cost enablers - the line operating and overhead functions and business units of the Plan - to try to bring the admin costs in line with premium and membership
If the premium goes up or down while holding the admin costs constant, the ALR will decrease or increase accordingly. If the ALR is increasing, the Plan should look to its key enablers - brokers/sales force and underwriters - to determine if premium is being artificially affected through unplanned price reductions to clients or is being underwritten incorrectly - both of these issues can be corrected over a short period of time.
In reality, and as with MLR, the ALR calculations occur while all factors are in motion - and not in the same directions or with the same emphasis. Thus, when ALR is off-plan in an undesirable direction, the Plan's executives must closely coordinate their analyses and responses in order to bring it back on track.
For many years, Health Plans attempted to manage their ALR in the 12-15% range while MLR was being managed in the 84-88% range. This yielded very little operating profit, causing Plans to rely on investment income to create appreciable net profit for a given year. When the industry was primarily a not-for-profit and mutual insurance sector, this was not a significant market issue.
However, as mutual Plans have de-mutualized and some not-for-profit Plans have become for-profit, some Plans have broken the mold. For example, in recent years WellPoint would often have ALRs in the 15-20% range, reflecting monies expended to control MLR to 80% or less. They seemed to operate under the theory that once MLR could be brought down to 80% or lower, that level could be sustained while the Plan incurred additional membership growth at a flat or lower growth ALR. This is a point of view that Questas supports.
In contrast, some Plans now have ALRs below 10% - the BCBS Plans in both Massachusetts and Rhode Island are two recent examples of this. Low ALR and a profitable bottom line suggest well-automated, standardized operating environs that should be able to accommodate membership growth without linear cost increases.
The industry has begun to compare and contrast admin cost and attendant staffing levels overall and by function through such commercially available services as the SEER report published annually by the Sherlock Group. These fresh looks at the admin cost issue, as well as the maturation of the management and management processes in industry as a whole, are slowly driving it toward an operating model similar to what we at Questas have witnessed and helped shape in the Financial Services sector. For example, the industry is now considering or doing some of the following -- and we expect the rest to occur over the next 5 years:
Shifting more manually intensive processes to automated solutions - using automated tools 'around' core claims and administrative systems to effect a more efficient electronic environment
Focusing on what the financial services industry calls 'straight-through' processing - high throughput at high quality levels, aka "high yield" processes -- using highly automated electronic commerce solutions coupled to real-time, high- throughput transaction processing engines, with little or no human intervention in the process. This approach rejects the traditional health care system design that has a built-in 'human-in-the-loop' architecture operating in batch mode. Unfortunately, most of the industry's major application systems vendors cannot accommodate this straight-through model today - their solutions have to be enhanced by 3rd party products like BPM and other tools
Shifting from the industry's traditional silo-oriented, vertical operating models to process-focused operations . This radical shift literally "tips" a company's organizational model on its side and forces the company to operate horizontally across previous silos to satisfy client and constituent needs through single points of ownership and accountability. Several large Health Plans are undertaking this approach today - and we believe more will do so in the near future
Outsourcing core and non-core processes to 3rd parties - this phenomenon, known as business process outsourcing (BPO) is a relatively new concept in this industry; its growth has been impeded by a paucity of experienced and capable process outsourcing vendors. Like the transfer agent model in the securities and funds sector, however, we expect this approach to grow significantly in health care. And we expect an influx of experienced BPO vendors from outside the health care sector to drive the next level of BPO maturation and growth - multi- line TPAs, benefits administrators, transfer agents, banks, etc.
Consolidating and re-engineering previously distributed and decentralized back-office processes into centralized shared services centers - to gain consistency in processes and service, economies of scale in real estate, staff, infrastructure and costs - and doing so within the confines of a single large Pla n - like Aetna, CIGNA, Anthem or Kaiser
Creating shared services centers (SSCs) for core and non-core process across Health Plans as a means to create the operating leverage in standalone Plans that merged/acquired Plans expect to enjoy. In this model: (i) one Plan might serve as the service entity for all others for one or some select processes, or (ii) a separate jointly-owned entity would be created to serve as the SSC, or (iii) the SSC would reside at a 3rd party BPO vendor. The cross-Plan SSC is a relatively new concept in the industry and has not yet been implemented in the commercial sector in a significant way - but we predict that it will be a major future business model
Having studied and worked with client organizations in the SSC and BPO areas, Questas' view is that most internal processes in a typical Health Plan could be candidates for outsourcing and most high-volume processes are candidates for shared services centers. The final result for any particular Health Plan lies in the careful development and articulation of its strategy for effectively and profitably managing and operating the business on behalf of its constituencies - then executing any SSC and BPO deals in a manner consistent with that strategy and under very well crafted contractual arrangements that support the end objectives.
Investment Income - Driver
The final Financial Driver is a non-operating issue - investment income. When a Health Plan reports its financial results, it calculates its Operating Profit as: Revenue minus Medical Costs minus Operating Costs. Then it applies the effects of investment income/loss to calculate its Net Profit.
Plans manage their investment portfolios in many ways - usually driven by their charter, with some Board discretion about how much leeway they have among asset categories, international versus US investments, etc. Some use 3rd parties, like investment firms, to manage discrete items like real estate, surplus pools, or short-term cash needed for claims payment. Others manage their own portfolios with advice from 3rd party experts.
The value of portfolio assets is reflected in the income derived on an ongoing basis and for annual profit calculations. It also affects risk-based capital (RBC), a derived value for each Health Plan that, if too low, can dictate how a Plan can conduct its business, how much new risk it can undertake, where it can make investments, when and if the State can step in to oversee the Plan, etc. This is a highly important area that needs more visibility in most Health Plans.
Operational Enablers of Success
The Financial success of any Health Plan is certainly driven, formulaically, by the factors noted above: Revenue, Medical Costs, Operating (or Admin) Costs and Investment Income. However, these items are themselves enabled by other factors that we call the Operational Enablers of Health Plans' success.
Again, with reference to the chart below, which we have repeated here for the reader's convenience, the Operational Enablers are clustered around the Financial Drivers to show the cause-and-effect relationships they have upon one another.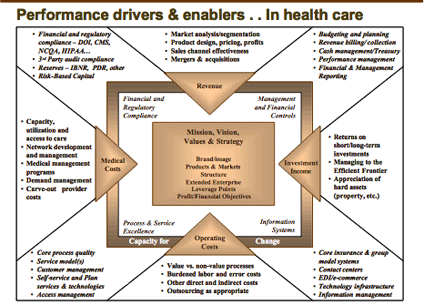 As depicted on the chart above, there are five major categories of Operational Enablers for Health Plans:
Management and Financial Controls
Financial and Regulatory Compliance
Process and Service Excellence
Information Systems
Capacity for Change
We will touch briefly on each one.
Management and Financial Controls - Enabler
In this category of enabler, which primarily supports the Revenue driver, Health Plans conduct a variety of important processes, among them:
Premium and fee billing, collection and accounting/reconciliation: This process suite, which is sometimes commingled with the account or group set-up and enrollment and eligibility maintenance functions in a single operating unit, is critical to the Plan's ability to collect and manage its revenues. We often see and help Plans resolve critical problems in their ability to do this function, mostly in billing and reconciliation, policies for same and related systems shortcomings. In some aberrant cases, Plans allow millions of dollars to lie un-reconciled and un- posted for many months at a time, creating controls issues and having significant negative impacts on client relationships, sales and renewal processes.
Accounts payable: Affects the Operating Cost Driver and is not typically a large problem for Health Plans. However, this process becomes problematic when it is flowing cash out faster than the Plan is bringing it in - and when it is not the last step in a coordinated effort to leverage the Plan's scale to develop procurement and sourcing programs to yield the most favorable purchasing deals available for labor- and non-labor related goods and services.
Cash management & related treasury functions : This suite of processes affects the Investment Income Driver as well as informing management of its exposure to Risk-Based Capital (RBC) issues. As noted in Investment Income above, the investment policy is often set by charter and /or the Board and can be changed only by a corporate action. Most Plans use outside advice to help manage their invested assets.

When a Plan is close to the RBC danger areas, however, it can look to its investment portfolio to help offset some of the se problems. For example, RBC requirements would usually be reduced if a high-yield non-government portfolio were shifted in whole or in part toward lower yield government instruments. In such cases, a Plan might consider the following:



Developing an explicit strategy to address RBC adequacy and build margin
Develop an allocation model that directs RBC margin above the Company target RBC to Growth and Investment returns
Consider working with external Investment Managers to establish target risk and return profiles, along the Efficient Frontier, to determine the acceptable level of risk and concurrent return


When a Plan suffers from RBC adequacy issues, its management team must be aware of the effects its decisions and investments would have on RBC before making them. In a recent client assignment, Questas developed the following model, customized to that client's situation, for its managers to consider:
Risk Based Capital - Key Drivers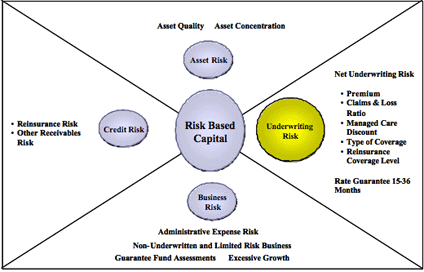 Budgeting and planning: A typical process within any company, it supports all of the key Financial drivers. We usually find few problems in the process itself; however, in Plans that are not operating at optimal levels, we often find an unusual focus on adherence to budget as opposed to dynamically managing the performance of the real drivers of financial success
Performance management and reporting: in Plans that are not performing up to their potential, we often find the absence of real-time performance measurement - key metrics, flash reports, and trend analysis. We also often note the absence of comprehensive financial and management reporting that includes: (i) an analysis of what happened in the reporting period overall, by LOB and product; compared to prior period and same period in the prior year; (ii) narrative explanations by accountable executives about causes and effects; (iii) ample indications of what current issues mean for the remainder of the year, noting catch-up and new opportunities, and including a new reforecast for the year.
We believe all of this should be embodied in a dashboard reporting mechanism and discussed at a monthly meeting of all accountable executives who can each explain and defend his/her area, help the company assess and incorporate the feedback from the session and take actionable steps to take advantage of leverage points and rapidly overcome ongoing problems highlighted in the sessions.
Financial and Regulatory Compliance - Enabler
This suite of enablers is tied to overall company compliance with rules and regulations promulgated by external entities, such that compliance with same allows the Plan to continue to operate and pursue its business objectives in the single or various markets in which it has licenses to sell its products and services.
The four key areas of this enabler are noted below.
Financial compliance: refers to adherence to the various requirements - often expressed in terms of reserve adequacy - that are imposed by the local Department of Insurance (the "DOI") or its equivalent in each state in which the Plan conducts its business. Thus, each regulator might establish a minimum reserve (or surplus) level that a Plan must meet - and that level would often be derived by a formula that takes into account the types of products and clients in the Plan's portfolio. Plans 'get into trouble' when they approach the minimum reserve level and thereby invite or cause the regulator to inspect and/or oversee their processes and the company itself until the Plan is out of danger. Periodic diagnostic self-assessments of how a Plan is operating - such as those Questas regularly conducts for some clients - can help prevent this problem from occurring.
Financial adequacy is also a concern of certain 3rd parties: (i) the trademark and license issuer, such as the Blue Cross Blue Shield Association; (ii) Standard & Poors; (iii) AM Best; (iv) the Weiss ratings; and (v) others. Plans that have financial adequacy problems can be identified by these entities and will affect how employers and consumers make decisions about selecting Plans and their products
3rd Party audits compliance: From time to time, Plans undergo audits by 3rd parties on behalf of constituents - such as self-insured employers, large providers and others. Failure to satisfy such audits often leads to remedial programs and sometimes financial penalties. Again, periodic diagnostic self-assessments can help avoid these issues
Regulatory/oversight compliance - DOI, CMS, NCQA, OPM, and HIPAA: All Health Plans are required to report certain data to regulatory and oversight agencies for compilation and assessment by those entities. Sometimes this is for local regulator (DOI) compliance - quarterly and annual financial reports, executive compensation reporting, rate filings, etc. In other cases, periodic accreditation occurs, such as those conducted by NCQA. In other cases, the Plan must conform to federal laws governing aspects of its business - such as the HIPAA regulations that have proven so costly in the past few years
Reserves - IBNR, PDR, other: Finally, each Plan employs internal and/or external actuaries to help it assess and set appropriate reserves from time to time. The setting and releasing of reserves has impacts on the balance sheet and the income statement depending on how they are treated.

The most visible key reserves that each Plan employs include Incurred but Not Reported (IBNR) Claims reserve and Premium Deficiency Reserves (PDR). IBNR is a misnomer these days since it includes both claims that have been incurred and not reported as well as those reported claims that are in-house at the Plan but have not yet been paid or denied. The latter were once separately estimated in an Unpaid Claims Liability (UCL) reserve.

The Premium Deficiency Reserve (PDR) is a tool used by Plans to set aside monies to offset deficient premium rates for certain accounts and/or for segments (large group, small group, etc.). These deficiencies can be modeled by tracking premium and medical costs on a PMPM basis for the target accounts and segments and setting a reserve when convergence of the lines appears imminent. However, some Plans have been known to set up a PDR to artificially suppress rates for new accounts in order to gain the business. The PDR impacts current year financials and any remaining contract months in subsequent year(s). It also sets up a difficult renewal process since the PDR offset and the actual annual trends have to be reflected in the new rates - sometimes resulting in a very large increase that does not play well with clients.

Reserve setting should not be housed and managed within a single tight vertical silo such as Finance. For both IBNR and PDR, we recommend that Plans consider them in roundtable meetings where key aspects of the business are represented and can each provide input into what is going on in the business that might affect the level of the reserve to be set. The assembled executives should agree upon, set and monitor the reserves in an open and transparent manner. This recommended process helps Plans avoid IBNR and PDR 'surprises.'
Process and Service Excellence - Enabler
Whereas the Medical Cost Driver and the Operating Cost Driver discussions embraced the costs of the processes involved in running a Health Plan, this enabler addresses the quality of those processes. One might consider that the quality of a specific process is what makes it successful in the view of the constituent who has been served by the process; whereas the cost of the processes in the aggregate, as expressed in the premium rate or the ASO fee, is what makes a Plan's offerings financially attractive to a buyer.
When Questas works with Clients to address process and service issues, we often approach them in defined groupings as follows:
Strategic and Operational Planning
Product Design & Pricing
Sales & Marketing
Overall Service Philosophies and Functions
Actuarial and Pre- and Post-Sale Underwriting
Case Installation - comprised of Group Set-up and Benefits Configuration, Enrollment, Fulfillment (ID cards, Booklets, etc.), Set-up of Initial Billing and Commission Data; and Eligibility Data Feeds to 3rd parties (PBMs, carve-out providers, etc.)
Eligibility Maintenance, Billing, Collection & Reconciliation > Network Development, Credentialing, Provider Contracting and Provider Data Management
Claims and Encounters, COB, Recoveries
Medical Management
Provider & Member Services
Accounting & Finance
Cash Management & Treasury, plus Banking Relationships
Information Technology / Services
Information Management - Analytics and Informatics
In Questas' work with Plans to assess their overall process and service philosophies and capabilities, we have noted the following major points - additional discussion is available from Questas about each discrete process and combinations of processes noted above:
Service model(s): Compared to other service industries, especially to financial services firms, the key shortcoming we observe repeatedly is the lack of an articulated service model for each constituent to be served - i.e., brokers and benefits consultants, employers, members, providers, 3rd party partners and affiliates, regulators, and others.

We rarely see Plans explicitly articulate strategies for serving their clients from the "outside-in." In other words, in such cases they do not define:


How constituents conduct their own business (e.g., a physician serving a patient in a clinic, or a broker dealing with a small business owner)
If and where each constituent's business processes cross a definable "line of visibility" with the Plan
Where, how and in what media the Plan receives each type of service request and handles it
How consistent each Plan encounter is to others the same constituent might experience
If each such encounter, occurring through any available means, satisfies the Plan's desired 'service experience' for that constituent each time

Although Questas' staff has helped some Plans develop their outside-in service models, Plans in general have not yet grasped the value of this approach - unlike, for example, their financial services and consumer goods industry counterparts that spend considerable time, energy and money on this issue
Customer relationship management, self-service and Plan service technologies: Health Plans often struggle with the determination of who or what is their 'customer.' For some, it is clearly the employer (group products) and/or its members (non-group products). Some Plans believe employers are the key client but that CDHP products will shift that emphasis away to consumers. Some believe that intermediaries are the Plan's customers - brokers, benefits consultants, chambers of commerce, associations, Taft-Hartley funds, etc.-- and thatthey 'control' the decisions of their clients, primarily employers. Others say providers are their real customers, whereas others consider them to be their 'supply chain.'

Regardless, Plans need to understand who the ir customers are, how they need to be serviced (media, languages, times, locations, etc.), how best to retain them and then develop self-service and Plan-delivered service offerings to do so.

In our view, Plans should have an executive on point for each key constituent - a single point of authority, responsibility and accountability for constituent service - uncomplicated and clear. Whether or not Plans 'need' specific technologies like CRM tools to drive customer relationship management, or whether they do so by less complex technologies and interpersonal relationships is a Plan-specific issue. But Plans need to define how they will do this and optimize their results.

When focused on employers, members and sales intermediaries, this plays to succeeding in a takeaway market - and enables the Revenue line. It is clearly very important.
Access management : Finally, access management is often a key issue for members and can be facilitated by Plans. Access management refers to helping members gain appropriate access to medical care - in settings that are suited to their conditions, travel constraints, languages spoken, and other considerations. Group model HMOs - like Kaiser and Group Health Cooperative - help manage access to care using as gatekeeper an employed or affiliated primary care physician in an HMO-owned and managed clinical or medical office setting. By coupling this with a multi-lingual, nurse-staffed call center for setting appointments and providing quasi-triage and routing services, the Plan can help funnel members to appropriate care sites while helping control medical costs at the same time. In traditional multi-line insurers and IPA model HMOs, access to care might be driven by a gatekeeper primary care physician who resides in the contracted network, or might be front-ended by a nurse call center - like Nurse 411, Access Health or other. In other cases, the patient or member navigates the health care system by herself/himself - perhaps with tools available on the Plan's web site or elsewhere - to select and schedule appointments with providers at all levels of the care continuum.

In the shift away from managed care, we are seeing rapid movement toward non- gatekeeper model HMO, POS and PPO plans - coupled with the re-introduction of indemnity-like high-deductible catastrophic insurance programs with relatively open access to care givers. The latter exist both independently and as the backbone offering in some of the recent CDHP plans. Sometimes the non- gatekeeper products are accompanied by some form of health savings account and modest to high co-pays and per member and per family deductibles. Plans are counting on the deductibles, co-pays and savings accounts to get consumers more involved in the care process, to make smarter decisions about what resources to use and to help curb the rising cost curve. The jury is still out on whether or not that will work over time.

What is clear, however, is that these shifts were all done rapidly, not slowly with close examination of any sentinel effects they might have had that need to be corrected. In our view, costs will rise over time faster than in the gatekeeper model.

What is also clear is that the 'smart consumer' model only applies to individual and families who have discretionary income (perhaps more than $70,000 or so in household income), technology proficiency (web access required in many cases), some higher education (it's an educated consumer and choice model) and time available to help manage the health care system. But, for some, this new model is not a good fit - the working poor, those without discretionary income for whom the up-front deductible is a hardship and those without the time, inclination, education or technology access to do the work. The Consumerism model, which started out as an access and choice opportunity for consumers, has been altered into an economic benefit for employers. It runs the risk of more clearly bifurcating employer-sponsored health care in the U.S., one set of solutions for households above a certain income level and one for those below.

Over time, Plans that provide good access to appropriate care in the right settings and at the right price will win - despite all the machinations going on to cause the consumer to make the 'right choice.'
As Plans outsource core and non-core processes to Business Process Outsourcing (BPO) vendors and/or to shared ownership shared services centers, they need to contractually insist on highly competitive costs and quality results and have a method for verification. In BPO contracts Questas has recently reviewed - between Plans and major health care BPO players - we have found them to be modeled after Information Technology outsourcing contracts. In our view, that is the wrong model for this arrangement.
BPO and shared ownership SSC contracts need to provide for ever-increasing quality levels at ever-declining costs per unit. If, instead, a Plan allows for level pricing or level quality, it will fall behind its competitors who are driving both variables in proper directions. BPO/SCC deals must have provisions for Errors and Omissions - providing both insurance coverage as well as operating remedies short of termination. Termination options should be limited, not the means to drive the deals - since once a Plan outsources processes to a vendor, especially to a vendor that owns the underlying technologies used in the BPO/SSC arrangement, it is very hard to undo the new model. Plans need external legal counsel skilled in health care BPO arrangements to help shape the se contracts. In- house management and legal counsel will generally not be up to the task of dealing with these vendors until the BPO phenomenon is more entrenched in the health care industry.
Information Technology - Enabler
A key enabler for most drivers of financial success for a Health Plan is Information Technology. In this industry, as in Financial Services, Travel and Consumer Products, information technologies are an essential part of the product or service that is being offered. It is not a support function as in the Construction industry or heavy Manufacturing or the Energy sector; it is a core function.
The industry has been slow to embrace the idea that IT is core to its product. Some Plans still bury the function under the CFO or a CAO, while lesser functions report to the COO or CEO. Some Plans use retail or manufacturing budgeting models for IT, spending less than 1% or 2% of revenue on it and treating it as a tactical support function. Others are more enlightened and spend what they need to spend to compete, using technology as an enabler.
With all the competing needs for capital and key people resources in most Health Plans today, we find Plans struggling to fund and manage the implementations of the right technology solutions in the following areas:
Core insurance systems : The industry's core transaction systems for claims, administration (enrollment, billing and premium accounting) and some aspects of customer service are primarily commercial-off-the-shelf (COTS) solutions. The systems in the suite of vendor solutions on the market are relatively consistent in features and functions, data storage and access and attendant tools. They differ in some ways - such as whether they are open or closed in architecture, available to be purchased as opposed to licensed, etc. None represent significant technological or functional breakthroughs for the industry.

Today, Plans select these systems based on available features and functions, cost to customize, financial strength of the vendors, the ir perceived 'working chemistry' with the vendor team, vendors' experiences in health care, references and the terms of the deal. More and more however, Plans are also looking at these systems and the vendors that offer them for their ability to become the basis for a future BPO solution should the Plan opt for that strategy. This is a key issue.

BPO vendors who also own the systems that support the outsourced processes are able to better define, price and control the delivery of their services than those who do not own the underlying technology and must manage the BPO service across multiple companies in the consortia play. This is fact, not conjecture.

These vendors can be more flexible in applying new system capabilities, afford to take more risk in the contract itself, and be more financially flexible in the terms of the deals than multi-company consortia, joint ventures or 'partnerships.' Once selected and implemented, however, they are also harder to terminate and move away from.

Over time, the industry will migrate to straight-through transaction systems that are: (i) front-ended by electronic commerce capabilities and networks of clearinghouses and direct-to-provider links, (ii) operate in real-time, without significant human interaction, if any at all, (iii) adjudicate claims and route them back to providers within 15-18 seconds and (iv) make EFT payments on the next day. None of today's prominent industry solutions can do this.

Questas believes that the industry's vendors will either invest to get this done in the near term or be overtaken by new entrants. Usurpers will likely be from financial services (e.g., Fidelity, Schwab, TD Waterhouse, and TPAs like GAB Robbins) - an industry that made the switch from disintegrated front-/back-office systems and high manual content in the flow, to fully automated, straight-through processing in the early 1990s. They know how to make this work.
Group model systems : With only Kaiser and Group Health Cooperative in the category among large Plans, suffice it to say they are adopting and adapting COTS claims and administration systems to 'talk to' clinical management systems from firms like IDX, Epic and others. Most of the issues discussed immediately above apply here as well.
Analytics & Informatics: Another area where we find the current application- and data-related solutions wanting in this industry is in higher-level analytics, reporting and performance management which, for the most part, are rather pedestrian. Even when they have the tools, Plans are usually not staffed with well-trained professionals with informatics, deep financial analysis, and related backgrounds such that they know how to analyze patterns in data, draw insightful conclusions about what they find and take action on it. Instead we find resource intensive 'ad hoc' querying going on. As an executive from our partner firm Apogee, Inc. likes to say: "ad hoc means 'I don't know what I'm looking for.'" This is a next frontier for Plans - using timely insightful information to create and sustain competitive advantage.
Contact center technology: Like other industries before it, this industry is finally making the switch, albeit slowly, away from telephone-based call centers to multi-media contact centers that integrate web self-service, VoIP, computer- integrated-telephony, e-mail, e-fax, and other technologies for composite service capabilities for Plan constituents.

As noted earlier, some Plans are layering CRM tools over this environment to better manage their 'customer relationships' however defined. Some are not. With the price/feature-driven account and member churn rate in health care, we are not yet convinced that the features, functions, implementation costs and problems created by and for CRM are necessary in this industry, and await further evidence of its long-term value in the health insurance sector.

Regardless, this inevitable journey was set in motion by other industries that are leaders in customer service. Consumers - and certainly members, providers, brokers and others are all consumers of a sort - have developed high service expectations based on their interactions with financial services firms, retailers, travel & hospitality vendors, e-cataloguers, and the like. They now demand them in and from every venue - including health care.

In the future, Health Plans will serve constituents when, where, and in the media and languages they want - or lose them to competitors.
EDI/e-commerce: After HCFA (now CMS) launched its electronic medical claims (EMC) initiative in 1990-1991, the commercial side of the health care industry began to openly adopt e-commerce tools and techniques. In 1994, the Workgroup on EDI (WEDI) was formed to help speed the adoption process; and in 1996, the Kennedy-Kassenbaum Bill (aka the Health Care Portability and Accountability Act or "HIPAA")was passed to further accelerate the adoption of electronic transaction technologies in the industry.

Yet, today, we find many Plans receiving only 50-60% (or less) of their claims and encounters electronically; with lesser results in electronic capabilities in enrollment and billing, referrals, pre-authorizations and electronic payments.

Until the industry - both providers and payers - realizes it is in its own best interest to create a fully electronic model, the processes and policies that characterize the bureaucratic manual overhead costs in this sector will not go away.

Questas leaders were among the first executives in the industry to create best-of- breed e-commerce environs - as far back as 1993 - that have withstood the test of time and still excel today. We help Plans both rethink their approach to this key competency and make the appropriate capital and operating investments in developing better e-commerce programs
Technology infrastructure: Health care faces the same needs for sophisticated technology infrastructure - networks, server farms, datacenters, etc. - that exist in other industries. And many Plans have done a good job in this area - or they have outsourced some or all of it to IT vendors
HIPAA compliance: With the last vestiges of HIPAA Security due to be implemented soon, the first major round of HIPAA related IT spending will end. But, no doubt, the government will then conceive of subsequent rounds of requirements that must be implemented to further standardize and protect the systems and data in the industry. Plans need to budget for these expenditures over the long term - they are likely to be unending and should be looked at as a continuum, not as isolated events
Like the BPO phenomenon, Information Technology Outsourcing (ITO) is taking hold in the industry, also slowly. However, unlike BPO which is a relatively new phenomenon, ITO - in one form or another - has been around in this industry and others since at least the late 1960s. It has never been fully accepted by the health insurance/HMO sector which has preferred a not-invented-here, do-it-yourself model. We find that this follows the prevalent compensation used in health care - the Hay model - where managers and executives often have been compensated by the 'size of their empires' rather than by their results. As the industry has moved toward for-profit behaviors and has hired more executives and management from other industries, ITO has begun to be viewed in a more positive light.
As with BPO, contracting for ITO services is a difficult undertaking and should be done, or advised, by experts who understand how these deals are best structured and where the pitfalls exist and must be avoided. This is not an area where Plans should let a new executive "cut his or her teeth" on contracting - yet some do, to their significant vulnerability.
Capacity for Change
The final operational enabler is gauging and assuring adequacy of a Plan's capacity for change before embarking on large-scale one-time or continuous change programs.
When considering this issue, a Plan needs to ask itself: "Could we plan and sustain a program of large-scale simultaneous change if we had to do so?"
The underlying issue the Plan needs to probe is the depth of capability it could bring to bear on any meaningful transformation program, cause it to be successful and still keep the business going at the same time.
Candidate transformation programs would include:
Mergers or acquisitions
Divestitures - of assets, members, or the whole business
Major growth spurts, perhaps due to turmoil in other Plans
Resizing due to the loss of one or more major contracts
Enterprise-wide engineering programs
Consolidating large numbers of sites, jobs and systems due to a need to better manage the consistency and costs of doing business
Outsourcing core processes and/or systems
Adopting new business models - for example, a virtual organizational design, shifting to a multi-Plan shared service center
Financial and operational turnaround programs
Since Questas' core offering is to provide comprehensive transformational and transitional services to Plans, we address these capacity for change issues in every such assignment.
Sometimes the answer is that a Plan can accommodate the planned changes, and more if necessary. Sometimes the pace of change has to be slowed and the end point extended. And sometimes additional talent must be added - hired by the client or made available through Questas - to begin the process. Every Plan is different, but the question is the same.
Closing
This discussion touched upon each of several key issues facing CEOs, their Boards of Directors and executive teams in today's U.S. health insurance market. We have summarized them in the diagram below, which is also displayed elsewhere on our web site.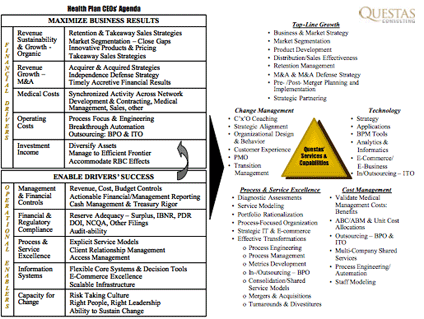 The Questas team hopes that readers find this discussion helpful, perhaps controversial or provocative in parts, and appropriate enough to your business that it might compel a face- to-face discussion with Questas about how we could help you and your teams address the key challenges and opportunities that lie before you.
Thank you for visiting this portion of our web site.